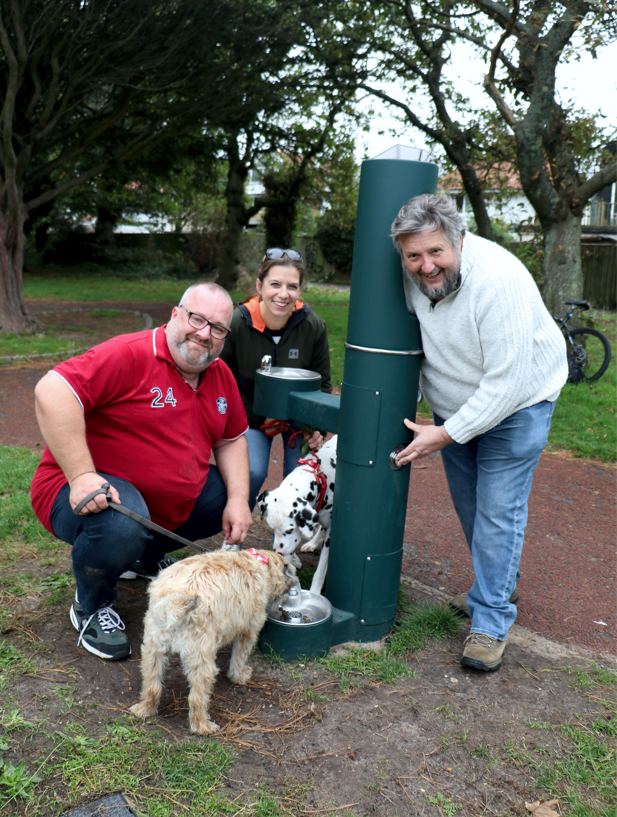 Fisherman's Walk drinking fountain installed
We've installed a new drinking fountain for both people and pooches at Fisherman's Walk in Southbourne. 
The new drinking fountain has three separate water dispensers, including one especially for our four-legged friends. There is also a tap specifically to encourage people to refill water bottles, to help reduce the use of single-use plastics locally.
The drinking fountain was funded by a donation from a local resident, Ed Burke, a grant from local ward councillors and donations from resident groups, including the SOBO Wastebusters.
Ed Burke made the donation in memory of his late mother. Ed Burke, said: "I wanted a special way to remember my mother, and I saw the fundraising appeal The Parks Foundation were running for a drinking fountain at Fisherman's Walk. My mother was at a nursing home near to the park and so I'd walk her there frequently. She loved animals, especially dogs. I know she'd be so happy seeing the dogs and people enjoying the fountain, so it's the perfect way to remember her by."
Councillor Mark Anderson, Portfolio Holder for Environment, Cleansing and Waste, added, "I'd like to thank Ed Burke for his contribution to the drinking fountain on behalf of mother and the fond memories it brings back to him.
"I'm really pleased to see another local fountain installed as it brings much joy to the community and especially their dogs. It's great that people can refill their drinks bottles particularly in summer months."
This is the fourth drinking fountain we've funded, with others installed at Hengistbury Head nature reserve, Slades Farm and Winton Recreation Ground over the past three years.
Cathi Farrer, Foundation Manager, said, "It's brilliant to being able to fund another drinking fountain in one of our beautiful parks. We want to create a network of drinking fountains across the conurbation's parks to help reduce the number of throwaway plastic bottles people use and protect wildlife from plastic pollution.
"We'd love to install more drinking fountains in Bournemouth, Christchurch and Poole's parks. If any companies would be interested in sponsoring a drinking fountain, we'd love to hear from them- they really do make a positive difference."
The contribution from ward councillors was granted from a Community Infrastructure Levy that local authorities can choose to charge on certain developments to help deliver infrastructure and support community developments in their area.
You can find out more about this project here.
Published October 2021
Sign up to our newsletter and be informed about all the latest inspiring Park Foundation updates, events and fundraising across Bournemouth, Christchurch and Poole.