Eco Sustainable Solutions makes us their charity of the year
Partnership with local waste processor, Eco, announced
Eco Sustainable Solutions, one of Dorset's primary waste processors, is officially announcing its partnership with The Parks Foundation, the local charity enhancing BCP's green spaces. As well as fundraising for the charity, Eco will be providing practical support in the form of gardening materials for The Parks Foundations' upcoming projects. The new partnership promises a flourishing future for the local area through improvements to parks and green spaces in Dorset.
Founded in 1993, Eco Sustainable Solutions has deep roots in Dorset, having supported local landscapers and gardeners for many years. The family-run company turns over 250,000 tonnes of waste, including all 38,000 tonnes of Dorset's food waste and 65,000 tonnes of garden waste, into quality mulch, compost, aggregate and more each year. As a result, Eco has been working hard behind the scenes to help grow green spaces in the area and give back to the planet.
Now, Eco has committed to helping Bournemouth, Christchurch and Poole bloom even more by partnering with The Parks Foundation as its chosen cause for 2022. The local charity is devoted to enhancing Bournemouth, Christchurch and Poole's parks and green spaces through fundraising and delivering community projects. Eco has donated materials for the new Cooper-Thomson Rescue Aviary in Bournemouth Gardens which opened in May, such as high-quality compost and mulch.
Cathi Farrer, CEO of The Parks Foundation commented: 'We are so pleased that Eco has chosen to support us, and we're excited for what opportunities this year-long partnership will bring. One of our projects is rebuilding the aviary in Bournemouth Gardens, and now, thanks to Eco, we have access to all the quality mulch, compost and more that we could ever wish for. It may not sound exciting to the outside world, but to us, quality compost is a big deal!
'Although we work alongside BCP Council to maintain and beautify green spaces beyond what the council can offer, we are an independent charity, and we rely on support and funding from the local community. So, with Eco's support we can achieve so much more.'
Tristan Dampney, Marketing Manager at Eco Sustainable Solutions, commented: 'We've been on the lookout for a local cause to support and when we came across The Parks Foundation, we knew it was the perfect choice. Green spaces are so important for local people and wildlife, so we're big fans of the work The Parks Foundation do to protect and enhance them. Between our experience creating gardening materials and The Parks Foundation's experience using them, it's a match made in heaven for sure.
From bake-offs at the office to donating more mulch, we're going to do all we can to help support the charity's projects over the next year.'
Published June 2022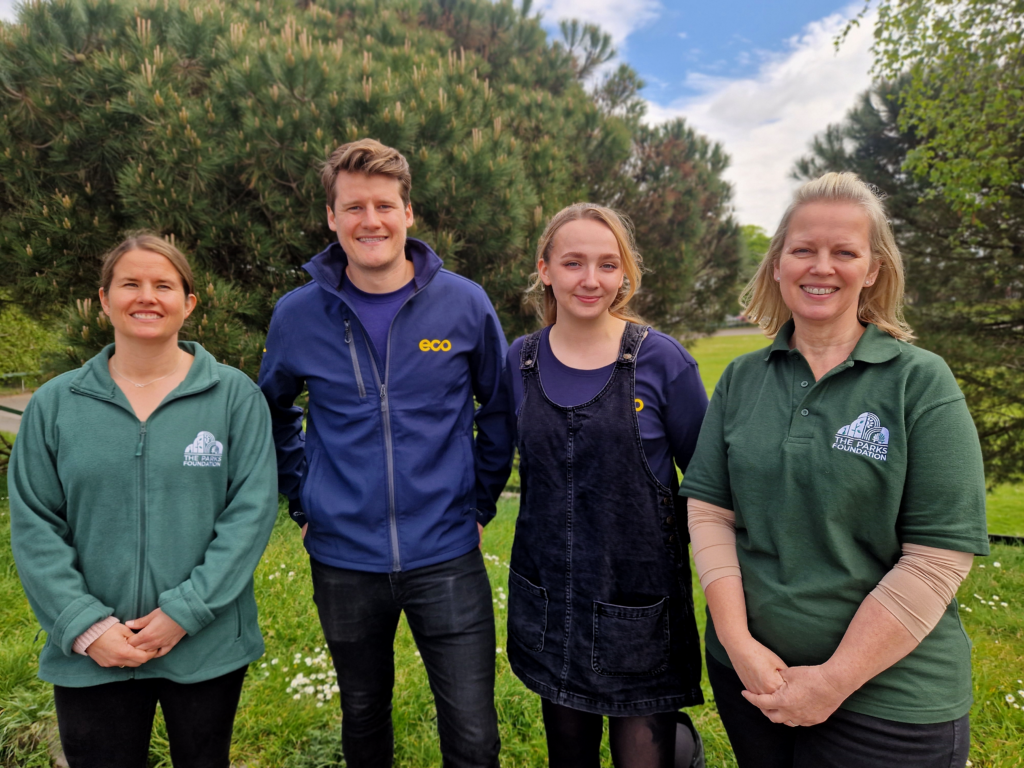 Sign up to our newsletter and be informed about all the latest inspiring Park Foundation updates, events and fundraising across Bournemouth, Christchurch and Poole.